Car Inspections Ireland is your ticket to peace of mind and road safety if you're thinking of buying a second-hand vehicle – or if you have problems with one you've already bought.
Our expert and professional engineers will examine that vehicle inside and out, with our thorough 100-point check.
This will tell us if that vehicle has been:
---
We'll also identify any other dangerous defects or parts about to give out, and let you know with an immediate phone call and a detailed follow-up report.
Our 100-point inspection covers:
We will also carry out a full vehicle history and finance check, covering both Ireland and the UK. The history check will signal any alerts for previous crashes, clocking, or write-offs, while the finance report will indicate if any finance remains owing on the vehicle by previous owners.
Give yourself peace of mind with a Car Inspections Ireland check, and you will be able to buy with confidence.
Other services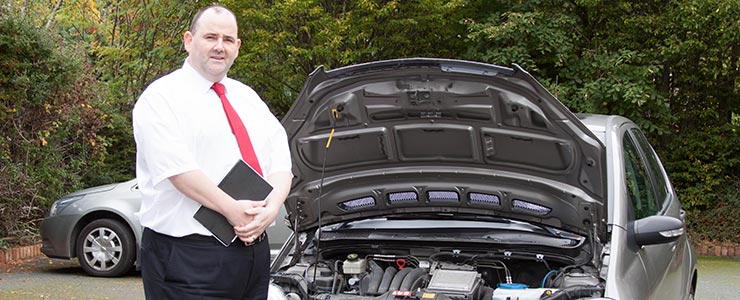 Other services provided by Car Inspections Ireland include:
'Lease and Return' dispute resolution – when you return a car you've b ought under the 'halfway rule' of a leasing deal, only for a dispute to arise with the dealership over its condition

Warranty non-cover dispute resolution – when a fault develops that you feel should be covered by the warranty, but the dealer says otherwise

Fraudulent sales resolution – if we find that you've purchased a vehicle that was fraudulently sold (e.g. clocked, previously written off, or other non-disclosure), then we can advise and help with the resolution pathways open to you
Car Inspections Ireland engineers
Car Inspections Ireland has a network of fully-qualified and accredited engineers right across the country, available to carry out your inspection in just 24 hours.
Our engineers are accredited with:
IAEA (Institute of Automotive Engineers and Assessors)

IRTE (Institute of Road Transport Engineers)

IMI (Institute of the Motor Industry)

SOE (Society of Operating Engineers)

FIEA (Fédération Internationale des Experts en Automobile)
They are also SQIs (Suitably Qualified Individuals) and are recognised by both the Department of Transport and the Road Safety Authority as qualified to inspect the roadworthiness of vehicles, and to report on any conversions or modifications.
---
No other car inspections service in Ireland has such a wide network of such highly qualified and experienced engineers, providing such a professional service at such competitive rates.
Nationwide and international service
Our engineers are strategically located across Ireland to ensure a prompt nationwide service, with no unnecessary travelling costs or inconvenience.
Also, their qualifications – including IAEA and FIEA – are recognised in the UK and other European regions, enabling us to deliver our quality service overseas as well as in Ireland.