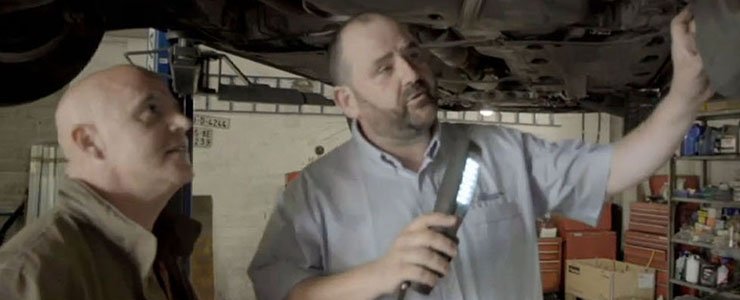 The founder and Managing Director of Car Inspections Ireland, Noel Maher, has featured on an episode of 'Conor Pope's Consumer 999' on TV3.
The focus of the programme was on the high rate of clocked and otherwise sub-standard second-hand cars being offered for sale in Ireland.
Noel was commissioned by the programme makers to give his expert view on a 2006 VW Golf that had been bought by a young couple from a private dealer for €4,900. They had bought the car with 116,000km on the odometer, and what appeared to be a valid NCT disc and certificate. However, they later found that it had never actually passed the NCT at all. Even worse, when it was last presented for NCT – which it failed – the odometer reading was 295,000km.
This meant it had been clocked by a massive 179,000km (over 100,000 miles).
The vehicle was towed to Noel for further inspection, and he identified a number of other areas of grave concern, including:
A brake disk badly perished and ready to fail at any time

Two serious oil leaks

Wheel alignment problems

Evidence of previous body repairs

Other issues with suspension, brakes, and steering.
Noel's expert conclusion was that the car was unroadworthy.
The programme also told how approximately 15% to 18% of all vehicles who are subject to a background history check in Ireland are found to have been clocked. There was evidence too of clocked cars finding their way into dealers' forecourts, meaning it is not just an issue when buying from a private seller.
With up to one in six cars for sale suffering from clocking and other serious issues, the wisdom of having a full vehicle check, history check, and finance check carried out when considering a purchase should be plain to see.
---
Car Inspections Ireland delivers all that, anywhere in Ireland, for just €185 – a small price to pay for motoring peace of mind.
We will carry out a 100-point car inspection at any location in Ireland, and provide you with a full written report, photographs, vehicle history report, and vehicle finance report, all within 48 hours.
Book a Car Check Now